Working in the round with Single Crochet
Note: This post is written using US terms, for UK crocheters, replace each single crochet (sc) with a double crochet (dc)
If you've gotten the hang of working in rows, and counting your stitches, it's time to try something different….
A few tips:
Use a stitch marker to mark either the first or last stitch in a row, so you don't get lost.

You can either join the last sc in the row to the first, using a slip stitch and then chain 1 to start the next row, or simply continue to work round in a spiral. It doesn't make a lot of difference, as long as you use a stitch marker to count your rows, I think that working in a spiral makes a nicer pattern.
 Pen Pot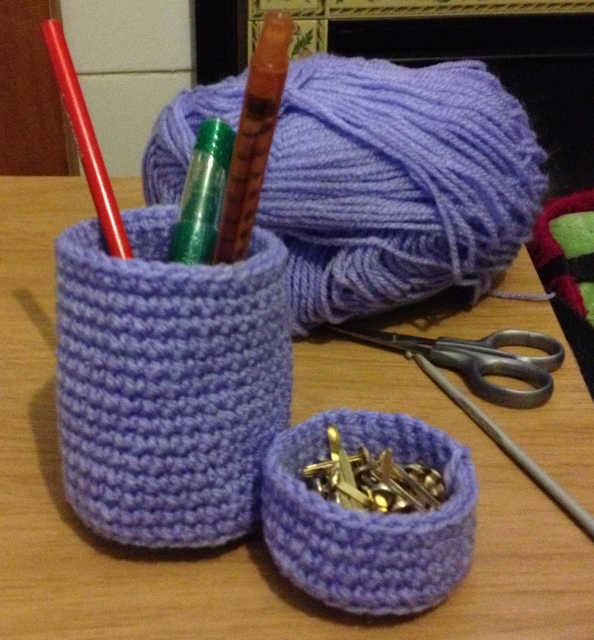 Chain 2
6sc in the 2nd ch from the hook (6sc)

2sc in each sc (12sc)

1sc in next sc, 2sc in next sc, to end (18 sc)

1sc in next 2sc, 2sc in next st (24sc)

1sc in next 3sc, 2sc in next st (30sc)

1sc in next 4sc, 2sc in next st (36sc)

sc in back loops only round (36sc)
8-20 sc round (36 sc each row)
To finish – slip stitch in next sc, fasten off.
Roll a piece of card inside your pot to make it more sturdy.
Why not try:
Changing colours to make a stripy pot

Making different sized pots to hold different things